A man who punched a 5-day old baby girl in his local Tescos has been found guilty by Manchester and Salford Magistrates' Court.
David Hardy was found guilty of punching the baby at a Tesco store on Altrincham Road in Baguley, Manchester. The baby, Elsie Rose,  was assaulted on the 5th of september with no obvious provocation.
David Hardy has pleaded not guilty to assault because he had thought the baby was a doll. Hardy told the magistrates he had been "messing around to lighten the mood" and thought the "doll" belonged to Elsie Rose's older sister.
Elsie Rose's mother was left "absolutely distraught" by the attack, which happened after she had bumped into a neighbour who worked at the supermarket. The neighbour had called her colleague, Hardy's wife, over to look at the "beautiful baby" she said.
Apparently Elsie Rose's older sister had looked bored, so in an effort to cheer her up Hardy enquired "is that your baby?". Upon hearing no answer he went further and told the girl "I am going to wake your baby up".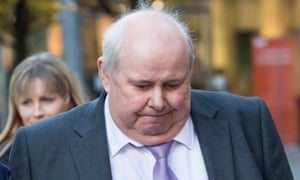 David Hardy outside Manchester magistrates court. Photograph: Danny Lawson/PA
The next stage is where the details become conflicted. He claimed he then gently tapped the child with a "loose fist" to "wind up" the girl. Another account is that Hardy had punched the baby in the head.
Elsie Rose was taken to hospital overnight but was discharged with no serious injuries.
District Judge Sam Goozee said of Hardy's claim that he thought the child was a doll was "implausible".
Hardy was fined £900 and also forced to pay £500 costs and £100 compensation to the victim. After the hearing the grandparents of Elsie Rose said they thought that Hardy should have been sent to prison. Elsie's grandfather stormed out of court describing the decision as 'f***ing joke mate'.
Outside court, Elsie and Hardy's family were involved in angry exchanges and security had to be called when there were physical exchanged from both sides, with the baby's grandfather particularly angry.
Afterwards, the baby's uncle, Luke Temple, said: "He should have got a custodial sentence for him to think about what he did.
He was all winking in the court like it was a big laugh. And to punch a baby in the face and say it's a doll… I'm really upset."
Earlier, the judge accepted that the attack had been an isolated incident and 'completely out of character'.
PoliticsOfTheYouth
Central Media Inc. Head Reporter